Air ride 3p air management kit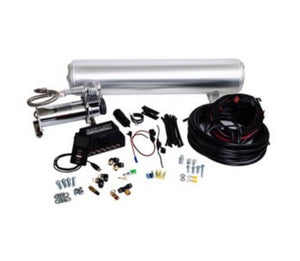 Air ride 3p air management kit
Regular price
Sale price
$2,000.00
3p Air Management Kit Incl Air Line, Tank & VIAIR 444C Compressor
Specs:
Air Line Size: 1/4in
Tank Capacity: 5 Gallon
Tank Finish: Polished Aluminum
3H / 3P Height + Pressure Air Management gives you all the advantages of height sensors and the added intelligence of a system that also considers pressure.
System Features
Controller
Both systems come with the Air Lift Performance 3 controller, a device that is truly amazing to hold and to use.
Free Mobile App
Take full control of your 3H/3P system with a FREE mobile app with no additional hardware needed, for all compatible devices.
Fully Integrated Manifold
By combining the ECU, pressure manifold, and Bluetooth module into one compact unit, the new manifold takes up less space than multiple components.
5 Custom Presets
The system quickly adjusts to and maintains height and/or pressure presets with the push of a button.
Height + Pressure (3H Only)
The system comes with everything needed for height and pressure control up front, for the best value. Start driving in pressure mode and install height sensors later, without the need to purchase an upgrade.
Height Sensing Technology (3H Only)
Height sensors give the system the ability to automatically adapt to changes in vehicle load.
Anti-Cross Loading + Axle Equalization (3H Only)
With the combination of pressure and height sensing technology, 3H can achieve the correct height without radical differences in pressure.
Show Mode
Turn your vehicle off and continue to control your air management via the controller or FREE mobile app.
Rise on Start
Turn the key and the system will take you right to your programmed ride height.
Easy Install
The key components of this system require less drilling, wiring, and take up less space than other air management systems for a cleaner install.
Innovative Control
Take your air game to a whole new level with our intuitive controller, featuring a full color display and rotatable keypad, tailored to your vehicle's setup.
Tap that app
Free. Easy. No additional hardware to buy or install
System Updates
Updated system software can be sent directly to the manifold and controller via the mobile app!
Bluetooth Powered
Use your compatible mobile device as the controller.
Fully Integrated Manifold
The ultimate air suspension setup needs the most advanced manifold.
High Grade
No compromise has been made, using the best components and materials in existence.
Advanced Processing
The state-of-the-art 32-bit processor powers advanced height + pressure algorithms for the most precise 4-corner control.
Single Harness Connection
The system comes with a simple and streamlined wiring harness for an easy and clean install.
Fully Integrated
Less components to buy and install with the ECU, manifold, and Bluetooth in one.
Built-in Bluetooth
No antennas, hardware, or additional accessories are needed to connect your mobile device to the manifold.
Accelerometer
The system detects the movement of the vehicle and makes accurate and intelligent adjustments at the right time.
Limitless Mounting Options
The compact design, harness connector location, and rotatable logo plate all allow for limitless placement options.
Similar products
Customers who viewed this item also viewed